Ask MrEd

You've got questions. We've got answers.
Welcome to the Q & A column where MRED brokers, agents and appraisers get answers to their questions, right from the horse's mouth, every Monday.
READ THE LATEST ASK MrEd COLUMN »
Do you have a great question for inclusion in next Monday's Ask MrED? Send your questions to askmred@MREDLLC.com. Don't worry, we'll supply the answers. We will choose one question to include every week and that person will receive a couple of cups of coffee on us, i.e. a $25 Starbucks Gift Card (enough for some oats on the side). And every month we will choose a "Best Question of the Month" winner. Not only will that person get some attention in this email but MRED will come out to his or her office's next staff meeting and serve coffee and donuts on MRED. Don't worry, we'll pony up!
---
This Week's Winning Question and Answer
Congratulations to this week's winner, Michael Gasior of Elan Realty Group in Chicago! A $25 Starbucks Card is on the way to you.  Welcome to the Winners' Circle!  Here is the winning question:
Question:  "How can I use the MLS search feature to narrow down a specific geographical area? For instance, my clients want to be within a 2 mile radius of 123 Main Street, Any town, USA?"
Answer: Sometimes, clise doesn't only count in horseshoes (OK, a reach but the best I couldn do.) Map searching is the tool you are looking for.
Choose "map search" on your search screen in connectMLS™ by clicking on the "Click here to select boundaries" link to display a map

You can either navigate manually by dragging the map; or click on the "Center On" button in the upper left corner and type in an address you want to center on

Click on the circle boundaries/"search by a radius" icon in the upper left corner

Enter however many miles you choose, or draw out from the center point, and release. Then click OK and your boundary is set.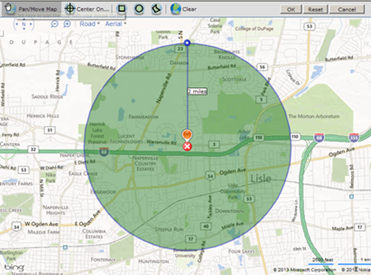 ---