Ask MrEd

You've got questions. We've got answers.
Welcome to the Q & A column where MRED brokers, agents and appraisers get answers to their questions, right from the horse's mouth, every Tuesday.
READ THE LATEST ASK MrEd COLUMN »
Do you have a great question for inclusion in next Tuesday's Ask MrEd? Send your questions to askmred@MREDLLC.com. Don't worry, we'll supply the answers. We will choose one question to include every week and that person will receive a couple of cups of coffee on us, i.e. a $25 Starbucks Gift Card (enough for some oats on the side). And every month we will choose a "Best Question of the Month" winner. Not only will that person get some attention in this email but MRED will come out to his or her office's next staff meeting and serve coffee and donuts on MRED. Don't worry, we'll pony up!
---
This Week's Winning Question and Answer
Congratulations to this week's winner, Lainey Lang of Baird & Warner in Naperville! A $25 Starbucks Gift Card is on the way to you. Welcome to the Winner's Circle! Here's the winning question:
Question:  "How can I search for 55+ or adult communities on the MLS? I am probably missing the horse on this one."
Answer: Searching for adult communities is a cinch when you add the General Information search field to your search criteria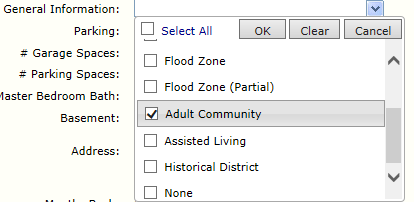 But you can also perform a subdivision search of known adult communities

---