Ask MrEd

You've got questions. We've got answers.
Welcome to the Q & A column where MRED brokers, agents and appraisers get answers to their questions, right from the horse's mouth, every Tuesday.
READ THE LATEST ASK MrEd COLUMN »
Do you have a great question for inclusion in next Tuesday's Ask MrEd? Send your questions to askmred@MREDLLC.com. Don't worry, we'll supply the answers. We will choose one question to include every week and that person will receive a couple of cups of coffee on us, i.e. a $25 Starbucks Gift Card (enough for some oats on the side). And every month we will choose a "Best Question of the Month" winner. Not only will that person get some attention in this email but MRED will come out to his or her office's next staff meeting and serve coffee and donuts on MRED. Don't worry, we'll pony up!
---
This Week's Winning Question and Answer
Congratulations to this week's winner, Evelyn Seals of Coldwell Banker Residential in Flossmoor! A $25 Starbucks Gift Card is on the way to you. Welcome to the Winner's Circle! Here's the winning question:
Question:  "I used to mail postcards a few years ago and would like to do it again around a new listing. Can you give me a quick tip or two on how to do this?"
Answer: This is a cinch - we're hearing that postcards are popular again. After performing your search in Realist (subdivision, map, etc.) click on the blue Search button in the lower left corner.
Once the list is finished populating, click the Create Labels button at the bottom and follow the prompts.
HINT: Be sure to add the customizing feature "Or Current Resident" when necessary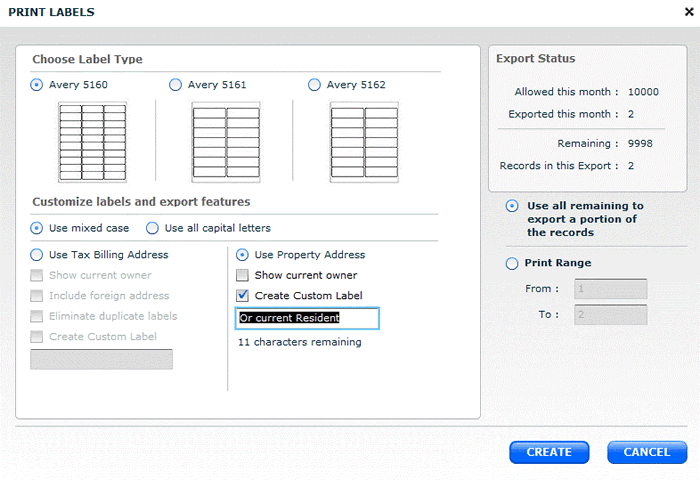 ---