UPSTREAM LLC
---
We have created this information site to educate our stakeholders on this important project. Please periodically check this site for the latest information.

If you are not an MRED Preferred Unit Owner and would like to become one so YOU can participate in discussions regarding Upstream, click HERE.

WHAT IS UPSTREAM?


Upstream, a collaborative broker initiative designed for brokerages of every size, is a comprehensive data management project for the benefit of the real estate industry. More than a mechanism for brokerage data entry, management, storage, and distribution, Upstream is the culmination of an industry groundswell to take back control of brokerage data. Upstream aspires to enable innovation by allowing brokerages to manage all of their data assets through a simple, streamlined platform.
Upstream offers:
- A single data entry point for potentially all brokerage data, leveraging existing standards and act as the "system of record."
- The ability to deliberately distribute data to third parties. Brokers determine which vendors get access, which data elements they independently receive and the frequency the data is available. It puts control back in the broker's hands and allows them to determine the exchange rate for access to their data.
- The ability to work with new, innovative companies more readily that may require their data (especially listings) across all of their offices regardless of MLS boundaries.
FOR MORE INFORMATION ABOUT UPSTREAM, GO TO UPSTREAMRE.COM
HOW DOES UPSTREAM WORK?


The best analogy to use when asking how Upstream will work, who has access to the data and how the platform will evolve, is Google Drive.
- Everyone can optionally leverage Google Drive.
- A file owner can permit access to specific files, multiple files, or entire directories. As the owner, they can revoke or change access controls at any time.
- No one at Google has access to your files, Google doesn't modify or distribute your files and Google doesn't sell access to your files. It simply offers the ecosystem that empowers the file owner.
Upstream is akin to the Google Drive of real estate data.
- Participation is optional but is limited to practitioners (brokers and their delegates)
- Brokers determine who has access, what can be accessed and when data is available.
- Nobody at Upstream, RPR or NAR has access to your data without your explicit permission.
WHAT IS THE GOAL OF UPSTREAM?
The goal of Upstream is to have a single Add/Edit platform where all subscribing brokerages will enter their properties for Sale and/or Rent. From this platform, data feeds will flow to the MLS databases where the brokerages have MLS Subscriptions, as well as be the platform for brokerage syndication choices, feeding back-office systems and, eventually, vendor products.

Upstream data distribution is a lot like ListHub in that it will only send individual brokerage data where the individual broker wants it to go, on an opt-in basis. Aggregated data or opt-out agreements will not be executed by Upstream. This means that products like CMAs, statistics, or IDX will not connect to Upstream.

Upstream has entered into an agreement with RPR (a wholly owned subsidiary of NAR). NAR is providing $12 million in initial funding, and RPR will provide the technology for the Upstream project. Upstream's tagline is "The Single Source of Truth" and it will be marketed as a member benefit of the National Association of Realtors.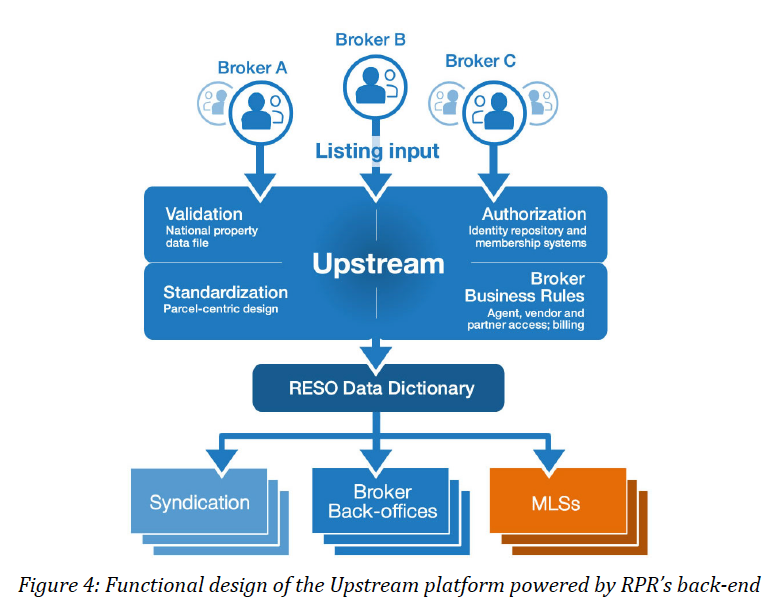 WHAT IS THE IMPACT ON MRED?
Implementing Upstream is a significant change to MRED's MLS system and business processes. Expense relating to this change would most likely result in an increase in MLS access fees. Maintaining the superior quality of our data is paramount. Part of this process is insuring our data standards are not impacted. Anything that has the potential to diminish or delay data in the MRED system is something that needs to be fully evaluated.
The technical requirements of this project for MRED's MLS vendor, dynaConnections, are substantial. However, dynaConnections has assured MRED that its existing product roadmap for connectMLS and related initiatives will not be affected by the implementation of the Upstream project.
INFOGRAPHIC - SCOPE OF UPSTREAM'S IMPLEMENTATION AT MRED »
Upstream would need to fully implement MRED's listing input business rules and processes so that the data in the MLS is not negatively impacted. Any changes to MRED's rules in the future would need to be coordinated with Upstream.
Once a brokerage decides to use Upstream, the add/edit functionality of the MLS system would be disabled; the only way to input listings for participating brokerage firms would be through Upstream.
MRED staff would be responsible for policing listing data submitted to Upstream to ensure its accuracy and adherence to MLS policies. We would need to hire additional full time employees in rules and regulations because of the increase in workload associated with policing listing data in this new system. The degree to which the Upstream system integrates with MRED systems will impact staffing requirements. If significant manual compliance is necessary, MRED will need more staff than if Upstream can integrate with MRED's internal systems.
MRED staff does correct inaccurate data input into certain fields. Once the correction is made, staff will notify the Listing Office and Agent of the correction via connectMLS's Listing Validator Notification system.
WHICH FIELDS ARE CORRECTED BY MRED? »
Upstream has requested a full roster list of all MLS customers; this would be a departure from current MLS practices.
Any costs associated with implementing Upstream technology or additional costs associated with increasing MLS staff to support this system would be paid fully by MRED. This will likely result in an increase in MRED MLS access fees.
A number of unanswered questions remain, which would greatly impact the scope of this project. See the list of questions MRED has submitted to UPSTREAM HERE.

WHO IS ON UPSTREAM'S BOARD OF MANAGERS?


- Bill Riss, Coldwell Banker Bain
- Bob Moline, HSA (Chairman)
- Cary Sylvester, KW (Search Committee)
- Charles Oppler, Prominent Properties
- Craig Cheatham, Realty Alliance (Secretary)
- Dan Elsea, Real Estate One (Vice Chairman)
- Earl Lee, Berkshire Hathaway Home Services
- Frank Perdichizzi, Private Label Realty (Treasurer)
- George Eastment, Long & Foster
- Gurtej Sodhi, Crye-Leike (RFP Committee)
- Joseph Horning, Shorewest Realtors
- Kent Hanley, William Raveis
- Mark McLaughlin, Pacific Union
- Pam O'Connor, LeadingRE
- Rick Haase, ERA Latter & Blum
- Steve Baird, Baird & Warner
UPSTREAM has announced that Alex Lange has been named the company's first President and CEO. See the press release HERE.
SUPPORT FOR UPSTREAM


Initially led by the Realty Alliance and Leading RE, Upstream's support is increasing and includes a number of MRED brokerages. Combined, known support of brokerages comprise a significant portion of MRED's market, totaling 35.85% of active agents, 39.38% of active listings, and 40.21% of transaction sides.





SEE MRED MARKET REPORT FOR DETAILS »
An official survey has not been sent to all MRED firms. At this point, support is only reported based on one-on-one conversations between MRED President/CEO Rebecca Jensen and firm owners, and emails of support that MRED has received.
Voice your opinion on Upstream - email upstream@MREDLLC.com with your comments and/or concerns

UPSTREAM ANNOUNCES FIVE UPSTREAM PILOT MARKETS
At the 2016 NAR Midyear Legislative Meetings in Washington D.C., representatives from Upstream announced five markets that have been selected for the Phase One Pilot Market process targeted to begin Q3 2016.
05/31/16 - UPSTREAM PILOT MLS UPDATE »

December 2017 – Upstream Video from Leading Real Estate Companies of the World »

EXTERNAL LINKS FOR MORE INFORMATION
MRED's Upstream Reading List (Last Rev. 6/9/17) »
Inconvenient Suggestion: please monitor this page for additional information
as it becomes available regarding Upstream

Convenient and Sensible Suggestion: subscribe below to the MRED Blog and automatically receive notifications when this page is updated